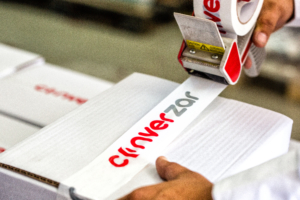 At Converzar we are specialised in 2 business lines always with the idea of providing the best solutions to our customers' different needs:
Faced with the need for adhesive tapes, abrasives and liquid adhesives, at Converzar we supply top quality products at competitive prices.
We have the 3M preferred distributor certification, a guarantee of confidence.

2. CONVERSION AND MANUFACTURE OF ADHESIVE MATERIALS
At our production centre, we design and produce solutions that make it easier to apply the products in the customer's processes.
At CONVERZAR we provide integrated solutions to satisfy our customers' needs for adhesive elements that optimise their production processes.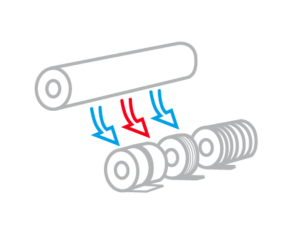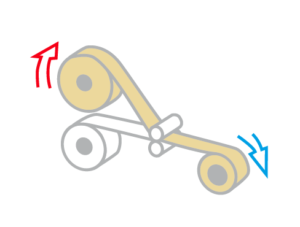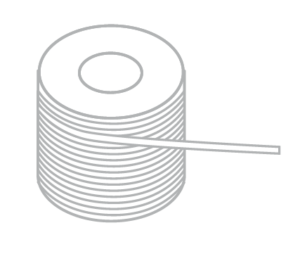 ADVANTAGES OF THE DAMPING AND TRANSFORMATION OF ADHESIVES
Reduce manufacturing times

Improves the application of adhesive tapes in processes

It favors automation

Facilitate cost control

Repetitiveness without prejudice to quality

We recommend you visit our Learning Center in the news section where you can find more details about the advantages of using die-cutting and more related articles.
DISCOVER OUR WIDE RANGE OF PRODUCTS
3M Tape Distributor | Business lines
In Converzar we have a firm commitment with those industrial clients that need specific materials for their daily tasks, such as adhesive tapes, abrasives and liquid adhesives. That's why, for more than 40 years, we have strived to be the 3M tape distributor that brings the best solutions to the market.
Since this company began its journey we have maintained a vocation of continuous service for those industries that require quality products that help them to have an impeccable activity. For this reason, we choose top-level suppliers, which provide the necessary guarantees to those who trust in the specialized work of this team.
We are sure that we have the necessary instruments for the most demanding sectors, such as aeronautics, automotive, white goods, special vehicles, electronics, electricity, construction and graphic arts. That is why we focus on the distribution of two business lines: adhesives and abrasives.
As distributors of 3M tapes we are aware that we have an enormous responsibility, both with the different industries that give us the opportunity to accompany them in their activity, as well as carrying the name of one of the most transcendental companies in the world.
Why choose us as your 3M tape distributor?
Converzar stands out because it has the power to supply products of the highest quality at a competitive price. And, thanks to our extensive experience, we are recognized as preferred distributors and converters of 3M tapes.
In addition, as experts in the area, we know very well that consumers have specific needs that vary according to the activity they perform. For this reason, we design and produce viable alternatives that facilitate the use of these tools in the client's production processes.
For us it is a pride to say that we are a 3M tape distributor and that we have a large stock in the product lines, with the aim of shortening delivery times to customers. In Converzar we will accompany you in each one of the stages of development of the project until the application phase, including granting automation alternatives.